ATTORNEYS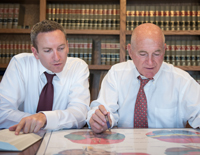 Ronald D. Mercaldo of The Mercaldo Law Firm
Ron Mercaldo established The Mercaldo Law Firm in 1978 for the purpose of representing plaintiffs in serious and catastrophic injury cases and wrongful death lawsuits.
Our Arizona and San Diego law firms have specialized for the last 15 years in the area of medical malpractice. Mr. Mercaldo left a larger firm in 1978 where he was a partner doing both insurance defense and plaintiff's representation. He has been actively involved in the litigation of personal injury and medical malpractice cases since that time, including insurance defense litigation and plaintiff's personal injury or medical malpractice litigation.
Ron Mercaldo has handled hundreds of catastrophic loss, medical malpractice and wrongful death legal actions during his more than 30 years of experience. He has won millions of dollars in verdicts and settlements for a broad range of clients, especially those injured in accidents involving large commercial vehicles. He is the recipient of a number of awards and professional recognition for his accomplishments, and is considered among the top litigating attorneys in southern Arizona.
Learn more about our accomplished lawyers by clicking on the links below:
Call or e-mail the Mercaldo Law Firm today.  We respond promptly to your email message and any communication with our law office after business hours. Your initial consultation is free of charge. An evening appointment is available upon request.