HOME
The Mercaldo Law Firm is Different
The Mercaldo Law Firm was established in 1978 with the expressed purpose of representing people who have suffered catastrophic injuries and the surviving families of victims of wrongful death.
For over 30 years the expert staff and experienced trial lawyers of the Mercaldo Law Firm have been involved in the litigation of wrongful death / catastrophic injury and medical malpractice cases. Our reputation for success in the courtroom and obtaining large out-of-court settlements have made us one of the best-known law firms in the Southwest area. READ MORE
We'd like to congratulate founding partner Ron Mercaldo, who has been named a lawyer of the year for the third time by Best Lawyers for his work in personal injury and medical malpractice litigation.
Ron's excellence in the practice of law continues to be recognized by the most respected and credible members of the profession throughout the country.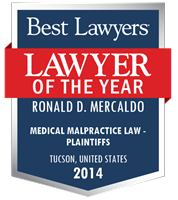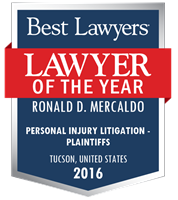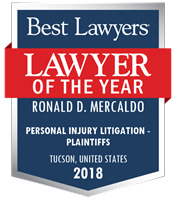 We'll be there to help you when you need help most.
If you or a loved one suffered a serious or catastrophic injury due to a motorist's carelessness, medical negligence or sexual abuse inflicted by a trusted authority figure — if your family is mourning a devastating wrongful death tragedy — The Mercaldo Law Firm is here to help.
Accomplished medical malpractice and personal injury lawyer Ron Mercaldo founded our law firm more than 30 years ago for one reason: to achieve justice for innocent victims of catastrophic loss who are too injured or ill and financially distressed to fend for themselves. Our team still focuses on that mission today.
A Skilled Law Firm Assisting Victims of Serious Accidents And Medical Malpractice Throughout Arizona and Southern California.
We place exclusive focus on, and aggressively advocate for, those whose lives have been permanently altered by undiagnosed terminal illness, missing limbs from highway collisions with distracted drivers of large commercial vehicles, and traumatic brain injury (TBI) after accidents caused by drunk drivers.
We are meticulous in the preparation of every case, careful investigation of your accident and have a reputation as one of the top litigating firms in the southwest. We have handled hundreds of jury trials and wrongful death lawsuits, and have won tens of millions of dollars for our clients.