Our Mission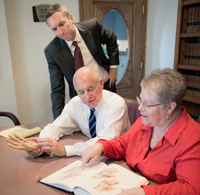 The Mercaldo Law Firm Is Different
The Mercaldo Law Firm was established in 1978 with the expressed purpose of representing people who have suffered catastrophic injuries and the surviving families of victims of wrongful death.
For over 30 years the expert staff and experienced trial lawyers of the Mercaldo Law Firm have been involved in the litigation of wrongful death / catastrophic injury and medical malpractice cases. Our reputation for success in the courtroom and obtaining large out-of-court settlements have made us one of the best-known law firms in the Arizona and San Diego areas.

The Mercaldo Law Firm vigorously represents seriously injured victims of health care providers in cases of medical negligence. The firm has a medical staff that includes a master's degreed registered nurse and former full-time nurse practitioner. The medical staff's function is to gather and analyze all medical records and interpret them, using exhaustive medical research.
The Firm is selective in its case evaluation process. We accept only those cases involving catastrophic losses and put the full resources of the Firm behind the successful prosecution of those claims. Our ability to limit the number of cases we accept means we are able to devote the attention that your case deserves.
Once a case has been accepted by the Mercaldo Law Firm, only the finest and most qualified experts are retained as consultants to offer expert testimony. Our experts are invariably impressed with the quality of the case preparation and medical research already accomplished when the matter is presented to them for review.
We believe strongly that the best possible compliment, and most accurate reflection of the quality of their work that any professional can receive, is a referral from a colleague in the same field. Ron Mercaldo is proud of the fact that the reputation he has earned over his decades of practicing law means many of his fellow attorneys regularly refer cases to the attorneys with The Mercaldo Law Firm and seek his advice. Ron is also a frequent lecturer on issues regarding litigation and medical malpractice in legal seminars throughout the country.
It is this reputation for and commitment to excellence that we will bring to your case and we look forward to meeting with you for a free consultation.